by admin, on Sep 27, 2017 3:30:00 PM
Barrier tape is something that you are bound to come across in your everyday life whether it's walking to work or driving to the store. Barricades are meant to serve as a caution and a warning of the dangers that lie within the barriers. Barrier tape can come in many different colours to signify the type of danger that lies beyond it.
Occupational Safety and Health Administration (OHSA) regulations specify colour coding of barricade tape as follows: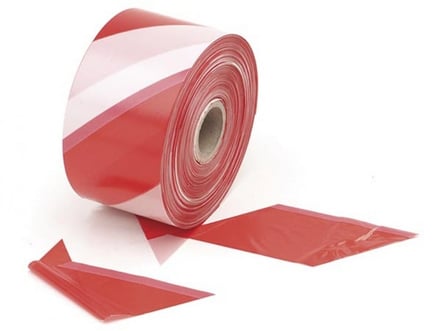 Red / White – for fire prevention and protection of equipment
Black / White – for housekeeping and aisle marking
Magenta / Yellow – for radiation hazards
Green / White – for safety and first aid
Blue / White – for defective machinery
Orange / White – for traffic and caution warnings
Black / Yellow – for physical hazards
In addition, the American National Standards Institute (ANSI) has a separate colour scheme for identifying barrier tape:
Yellow / Black – for excavation, trip hazards, low hanging objects and material storage on site.
Red – for overhead work, live electrical components, scaffolding under construction, or equipment with a rotating superstructure.
Magenta (Purple) / Yellow – possible radiation exposure.
It's important to be aware of the different types of barricade tape, especially if you are working on site. If you notice that barrier tape has been tampered with, knocked down, or removed, report it to the job lead immediately as this could result in serious consequences.
Most of the safety training courses offered at Irwin's contain additional information about barrier tape and the hazards within them.
For more infomation visit:
Barricade Tape General Information