High Angle Rope: Rescue Planning and Industrial Applications
by admin, on May 19, 2018 2:50:00 PM
Whenever workers are working at height it is the employer's legal responsibility to provide an effective means of rescue should they end up suspended in their harness. All too often the employer's answer for this is "We don't need a rescue team, we'll call 911 for that." This is becoming increasingly recognized as an inadequate plan by authorities, as municipal fire and rescue departments have varying degrees of high-angle rope rescue training and technical rescue teams may not be available at all in the region that you are working. According to WorkSafe BC "If the rescue persons are employees of another firm, or an agency such as a fire department, there must be a written agreement detailing the services that are to be provided."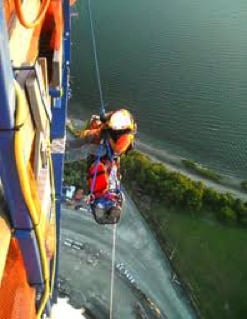 While we all strive to ensure that our workers return home safe and sound at the end of every shift, we at Irwin's Safety also partner with our clients to protect the company's legal interests through proper hazard assessment and safety planning. Irwin's Safety Rescue Teams have completed numerous standby contracts without incident because we believe that most accidents can be avoided by utilizing proactive, site-specific planning. This is where on-site rescue professionals differ from municipal fire and rescue teams. Fire rescue training is oriented towards responding to an unknown situation, and reacting to an event that has already happened. Irwin's Safety rescue teams, by contrast, develop pre-planned responses to every conceivable hazard. We identify the location and integrity of anchor points, pre-rig our pulley systems, and deploy 'jump-bags' close to the high hazard work locations, ensuring an immediate response in the event of an emergency.
A fair question to ask, from the employer's perspective, is "Does the use of trained Rope Rescue Teams justify the expense?" WorkSafe BC statistics give a clear answer: Yes. In the calendar year 2012, in the residential construction industry, where fall protection planning is often ignored, there were 1,070 claims (includes disability and fatality) related to falls from elevation. The financial burden to these business owners runs into the tens of millions, let alone the suffering caused to workers and their loved ones. Industrial construction, on the other hand, where fall protection professionals are routinely employed, showed a remarkable 15 claims in the same period. That's a difference of 70:1 with similar man-hours on site.
Although our personnel train constantly for the worst-case scenario, there are many ways that Irwin's Rescue Technicians can serve your project. Rope access can also be a cost-effective alternative to scaffolding when there is a relatively small amount of labor to be done. Often, in painting and industrial cleaning scenarios, scaffolding can make up to 50% of the cost. As well, with the explosion in growth of Wind Turbine Generation in Canada, Irwin's Safety offers the right crew at the right price for the necessary cleaning and maintenance that only Rope Access Technicians can provide. This also holds true for many work-at-height applications; church spires, water towers, bridge inspections, among others, all call for the professional expertise that our team brings each and every day.
Beyond the safety planning and rescue services offered by Irwin's Safety, our NFPA 1006 certified technicians also bring a wealth of industrial experience to the table. Whether you need medics or Safety Officers, carpenters, cleaners, or Confined Space Attendants, Irwin's personnel can deliver the complete package.