Up In Flames - Do Wildfires Threaten Your Community?
by Simon Broder, on Jun 30, 2020 3:30:00 PM
UP IN FLAMES
Do Wildfires Threaten Your Community?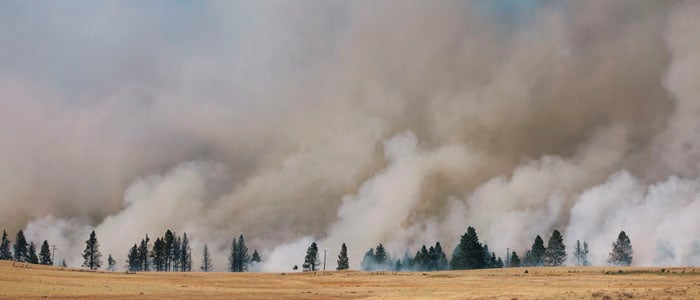 While wildfires have been around as long as there have been forests on the earth, they are bigger and more dangerous now than at any point in living memory. Climate change has led to drier, hotter summers with high winds that spread fires quickly, and the number and size of wildfires has accelerated rapidly since the turn of the millennium.
Wildfires Cause Vast Destruction
From May to September every year wildfires rage across northern Canada, putting homes and lives at risk. But while they may have become a fact of life in the summer in the Canadian north, that doesn't change the fact that wildfires are devastatingly destructive.
Fires spread rapidly and unpredictably, consuming buildings, destroying economies and putting lives at risk if people are not evacuated effectively. The 2018 BC wildfires consumed a surface area half the size of Vancouver Island, while the 2016 Fort McMurray wildfire caused nearly $10 billion in damages. Aboriginal communities are particularly at risk of sustaining direct wildfire damage, as there are numerous rural reservations in susceptible areas of northern BC and Alberta.
In addition to the obvious direct hazards to health and home, large fires also cause significant air pollution. Smoke contains dangerous particles including carbon monoxide, and this pollution can travel, discolouring the sky hundreds of kilometres from the actual source of the fire. When these pollutants get into people's homes, they reduce air quality and potentially lead to adverse long-term health effects.
Wildland Firefighters Control Wildfire Spread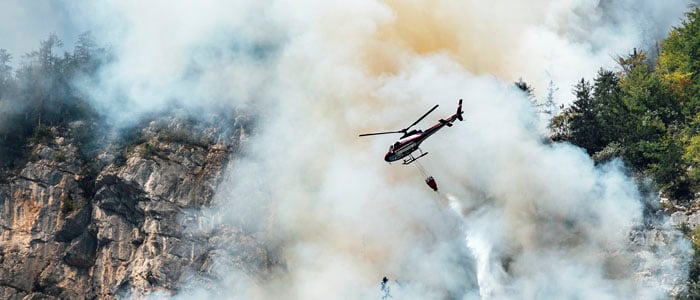 There is no hope of eliminating wildfires completely (nor should there be, since natural fires clear out deadwood and stimulate fresh growth) but because they can be so dangerous and destructive, it is important to control them as much as possible. That's why the province of BC employs up to 1,000 seasonal wildland firefighters per year; in Alberta, that number rises to 3,000. In addition to these government jobs, many private companies employ trained firefighters to contain fires and control spread as much as possible.
Wildland firefighters perform a range of tasks. Many of them work on the ground, fighting fires directly with hoses and other fire suppressants, operating bulldozers and other heavy equipment, or performing pre-emptive fire safety including controlled burns and patrolling hotspots. Others work from the air, performing water bombing operations. Typically, seasonal firefighters earn around $22/hr, though experienced firefighters, specialized workers, or year-round employees can earn much more.
Irwin's Offers Wildland Firefighting Training!
Fighting fires is arduous and inherently dangerous work – but it is important work. Firefighters save lives and homes and become heroes both within and outside their communities. And while becoming a wildland firefighter is not as difficult as becoming a professional firefighter with your local fire department, it still requires the proper training and certification.
Irwin's Safety travels directly to communities to offer large-scale group training in fighting wildfires.
Our Wildland Firefighting Training Suite includes all S-100 series and S-200 series courses. The S-100 series includes the two basic courses intended for all forestry workers or fire crews: S-100 Fire Suppression and Safety and S-185 Fire Entrapment Avoidance. These courses teach general firefighting techniques, fire safety and how to prepare prepare for hazards to avoid becoming trapped in a wildfire.
The S-200 series is more specialized and includes training for specific fire-adjacent jobs, such as dispatcher or crew boss. S-200 level courses include:
S-212 Fire Communications

S-213 Use of Bulldozers

S-230 Single Resource Leader/Crew Boss
S-235 Ignition Operations

S-241 Fire Assessment
S-100 level training can be completed within a week. S-200 training may vary in length depending on course.
If think wildland firefighting training is right for your community, TRAIN WITH IRWIN'S TODAY!