Why are First Nations Always Coming in Last on the Job Market?
by Simon Broder, on Sep 26, 2018 3:30:00 PM
How Skills Training
Can Build A Better Aboriginal Workforce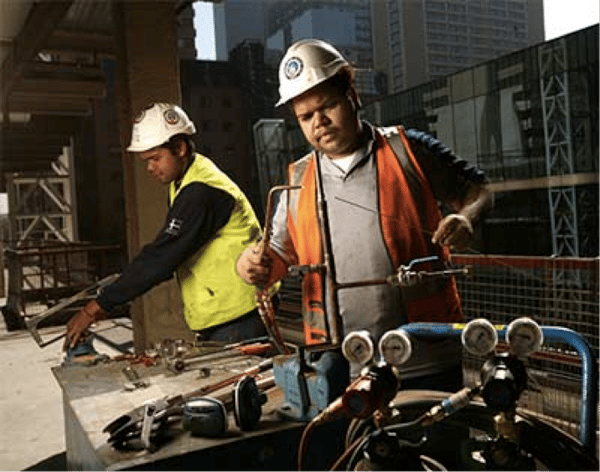 It's no secret that aboriginal employment is a critical issue in Canadian industry. The numbers don't lie: regardless of the economic conditions, the Canadian unemployment rate for aboriginals has remained almost double that for non-aboriginals over the last decade, and even when employed, indigenous workers have historically been more susceptible to job loss than the general working population. For example, according to a Statistics Canada study, in the aftermath of the 2008 recession 30% of aboriginal manufacturing jobs were lost, while in contrast just 8% of non-aboriginal manufacturing jobs were lost. Essentially, when push came to shove, First Nations and other indigenous workers were the first to find themselves out of work.
Aboriginal manufacturing jobs have returned as the economy has recovered, but indigenous workers are still paid slightly less per hour than the national average, are more likely to be temporary or part-time workers, and are less likely to have seniority than other Canadians.
The first step towards fixing unemployment and underemployment in Canadian aboriginal communities is understanding why indigenous workers tend to be among the first to be laid off or fired. And one of the main reasons is because aboriginal workers have historically tended to have lower levels of education and less skills training than their peers.
Companies Want To Hire Indigenous Workers

After years of neglect, industrial businesses are starting to realize that aboriginal hiring improves relations with the community, stimulates the economy, builds a better base of qualified workers and cuts down on labour costs. In 2017, Syncrude, a crude oil producer outside Fort McMurray, reached its stated goal of employing a 10% aboriginal workforce, while Saskatoon-based uranium miner Cameco is the number one employer of aboriginal people in all of Canada. PotashCorp, another Saskatchewan mining company, has invested in an ambassador program to bring in more aboriginal workers in the face of demographics that project a large spike in aboriginal population in that province over the next decade.

But while these large-scale companies are now motivated to promote indigenous hiring practices, indigenous workers as a collective still need to find better ways to add the skills necessary to secure lucrative, long-term employment and protect their livelihoods from further economic turbulence. Even with initiatives in place, many of these companies still need to look out of province for skilled workers because local aboriginal populations lack the education and training they require.
Irwin's Partners With Aboriginal Organizations
Irwin's Safety works to partner with community aboriginal organizations for training initiatives that aim to mentor potential aboriginal workers into long-term employment opportunities either with Irwin's or with these types of companies. In 2012, Irwin's ran a successful emergency services training program with the Prince George Nechako Aboriginal Employment and Training Association (PGNAETA). PGNAETA is an organization that has been committed to training indigenous workers in the Prince George/Nechako area since 1993, and through their training initiatives they currently project to introduce 534 new local aboriginal workers to the workforce by 2020. Working with PGNAETA, Irwin's trained 12 local aboriginal workers in Prince George in emergency services, and at the program's conclusion many graduates were offered direct employment opportunities with Irwin's while others were connected with industry opportunities including BC Ambulance and BC Wildfire.
Various Types of Training Options Are Available
Aboriginal organizations looking to partner with Irwin's can expect a large-scale local training program that can branch into four main streams: emergency services training; rope access training; train-the-trainer training; and entry-level training. All four of these streams offer training in positions or skills that are required at every major industrial project throughout construction and operations. Additionally, by training locally, Irwin's offers a community economic benefit that can last the duration of trainees' potential careers – often up to and in excess of 30 years.
The goal of each specific training program will vary depending upon a trainee's expectations, desires, and the employment skills they already possess. When running a program, Irwin's aims to work with each potential trainee individually to determine which type of training is right for them, because the key to any successful training program is ensuring that each trainee is placed in the course best suited to his or her specific needs.
| | | |
| --- | --- | --- |
| Training Type: | Goals: | Financial Expectations: |
| | To prepare a trainee for a potential career in emergency response | $27.50-$45.00 per hour |
| | To offer tradespersons a secondary skill which helps them become more in-demand in their field and potentially command a higher wage | $5-$7 premium per hour depending on other skills |
| | To prepare entry-level workers for a career in industry | $20-$30 per hour |
| | To equip a trainee with the skills and certification necessary to train others in the community or on the job site in a specific skill | $400-$500 per day |
The intensive emergency services training program can prepare prospective aboriginal workers for a specific, long-term career in emergency response. Every trainee who successfully completes this course will be certified as a standby rescue technician on industrial sites, and a second EMR certification can push them towards a wide range of emergency response opportunities, including (but not limited to):
Firefighting

Medic

Work

Rescue Operations

Search and Resc

ue

Disaster Management

Event Safety
Community members trained in emergency response also possess the skills to help out and manage any emergencies that may arise locally and perform highly skilled first aid.
Rope access training offers a highly specialized skill set in demand across a range of industries, from power generation to shipping to maintenance. Skilled tradespersons who can add rope access as secondary skill can increase their value to an organization and increase demand for their services, and even rope access technicians who lack another specific skill can work in opportunities such as window-washing which pay a premium when compared to unskilled entry-level jobs.
Rope access technicians are certified according to level, from Level 1 to Level 3, and as a technician passes each successive level they can expect to command a higher wage accordingly. Depending on other skills, Level 1 RATs earn in the range of $25K-$60K/year, while Level 3 technicians with highly specific skills can command up to $140K/year. The overall median wage for a rope access technicians in Canada is more than double the median wage across the country. RATs with trade skills in welding, pipefitting, and electrical work are in particularly high demand.
Irwin's can prepare entry-level indigenous workers for a range of jobs in construction, safety and industry. The population across Canada is aging out of the workforce as baby boomers hit their 70s, and one of the main industries hit by this is oil & gas – it is projected that within the next five years up to 23,000 oil & gas workers will be eligible to retire. And as these workers move on, new employees will be needed to take their place.
By tailoring each trainee's entry-level training to the types of openings that best suit their education level, skills and interests, Irwin's equips them with the knowledge and necessary tickets to remain gainfully employed long-term and potentially move up in their fields. Additionally, by training industrial workers in local aboriginal communities rather than bringing people in from out of province, Irwin's works to stimulate local economies and keep communities together.
Train-the-trainer training equips a higher-level trainee with the knowledge, practicum experience and certification necessary to go on and teach a skill either within the indigenous community or on the job site. There are roughly five types of train-the-trainer courses available:
Fall Protection

(OSSA, or Alberta

-

o

r BC-specific)

Workplace Hazardous Materi

als Information System (

WHMIS

)

Fire Extinguisher

or

Fire Watch

Con

fined Space Entry Monitor

T

ransportation of

D

angerous

G

oods (TDG)
Certifying or re-certifying as a safety trainer is a step towards a full-time career in safety – potentially as a consultant, manager or co-ordinator – and can open up high-level employment opportunities with Irwin's directly. Even if the trainer in question is not pursuing a safety-specific career, being trained to teach skills like Fire Extinguisher use, TDG, and WHMIS can increase an employee's value to potential future employers and likewise may increase their wage expectations and/or open up supervisory opportunities. Additionally, local aboriginal safety trainers understand cultural differences and language barriers and can become potential assets within the community, especially as more and more aboriginal-owned and -operated companies expand to partner with big industry.
Irwin's Offers Mentoring Opportunities
With a staff of highly trained and experienced health and safety professionals and a wide client base in energy and industry that includes DelTech, Encana, and many others, Irwin's is uniquely positioned to not only train aboriginal workers but also introduce them to the best opportunities within their chosen fields. As a business rather than a training-specific organization like a trade school, Irwin's is financially invested in developing elite workers who reflect well on the company and become truly valuable assets to potential employers. The seasoned leaders on the Irwin's staff understand that great training only helps cultivate industry connections and improve future relationships for everyone involved - Irwin's, the client companies, and the trainees themselves.
Government Funding Is Available

Any aboriginal organization looking to connect with Irwin's will no doubt be concerned with the question of funding. Fortunately, after decades of neglect the Canadian government has finally started to take aboriginal unemployment and underemployment more seriously over the past several years, and they currently offer multiple funding initiatives for programs just like these. The Aboriginal Skills and Employment Training Strategy (ASETS) is a labour market program designed by the Canadian federal government to help indigenous workers develop the skills necessary to succeed in the workforce, and other federal funding initiatives include the recently-signed Metis Nation Skills and Employment Accord. Provincial funding initiatives may also be available in many areas, such as the Aboriginal Economic Partnerships Program in Alberta.
Check out these stories for more information about successful funding initiatives.
Quality Partnerships Help Create A Better Future

There's an age-old adage about teaching a person to fish rather than simply feeding them for an evening, and training partnerships work in much the same fashion: the key to their success is sustainability. For various reasons ranging from physical proximity to job sites to government quotas and provisions, industrial organizations are motivated to hire local aboriginal workers, but in order for those relationships to grow and prosper, the key is making sure that the aboriginal workforce is trained to meet their specific needs. Irwin's is committed to bringing underemployed aboriginal communities together with industrial employers through government funding initiatives to build a sustainable aboriginal workforce. Skilled communities can work together with big business to build long-term symbiotic relationships that keep aboriginal workers employed – not just for today, but for tomorrow as well.
Aboriginal organizations interested in working with Irwin's to run a safety training program in their area can contact their closest Irwin's facility.
Individuals interested in working at Irwin's can apply through this link:
Look for more jobs at: